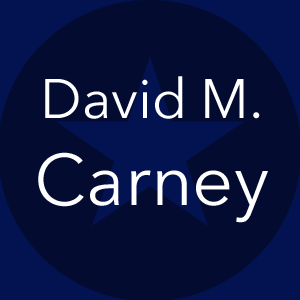 Prior to coming to New Troy Strategies, David worked at Norway Hill Associates (NHA), a political campaign and issue management firm based in Hancock, New Hampshire. NHA provides long-range strategic planning and short-term project management to political campaigns at all levels of government.
Since 1980, Mr. Carney has been involved in Republican politics, as well as both state and federal government. His experience gives him a unique understanding of the relationship between political strategy and public policy.
During the past decade, Mr. Carney has helped dozens of statewide and Congressional campaigns, including the campaigns of former Governor Rick Perry (TX), Senator John Barrasso (WY), and Texas's current Governor, Greg Abbott.
During the 1996 presidential campaign, Mr. Carney served various roles in the Dole for President and Dole/Kemp organization. He served as Senior Adviser traveling with Vice Presidential nominee Jack Kemp. Before that, he was a Senior Adviser to the Dole for President primary campaign. In 1995, Mr. Carney served as a consultant to Majority Leader Bob Dole in an intergovernmental affairs capacity, working with Governors, Members of Congress, other elected officials, and private sector interests.
Prior to his work for Senator Dole, David held the position of Deputy Executive Director of the National Republican Senatorial Committee, where he was responsible for overseeing the committee's political operations. "He was instrumental in the GOP's brilliant 1994 senatorial campaign effort, in which the party picked up eight seats." (Time Magazine 7/31/95)
Mr. Carney served the Bush-Quayle '92 campaign as Director of Political Affairs and National Field Director. He joined the Bush-Quayle campaign on January 20, 1992, after three years at the White House Office of Political Affairs, where he was commissioned a Special Assistant to the President and also held the position of Director of Political Affairs.
Before moving to Washington, DC in 1988 to serve in the Bush White House, David spent more than a decade working with Governor John H. Sununu. He began his career in politics as Field Director for Mr. Sununu's unsuccessful run for the United States Senate in 1980 and then served in the same capacity during Sununu's successful campaign for Governor two years later. He would go on to serve as co-manager on both Governor Sununu's successful reelection campaigns. David also served on Governor Sununu's staff as Special Assistant to the Governor and later Deputy Chief of Staff.
Mr. Carney is a former trustee of his alma mater, New England College in Henniker, NH, where he earned a Master of Science in Public Policy and BS in Business Administration. He is currently a Doctoral candidate in Community Economic Development at Southern New Hampshire University.
David lives in New Hampshire with his wife, Lauren, and their three children.