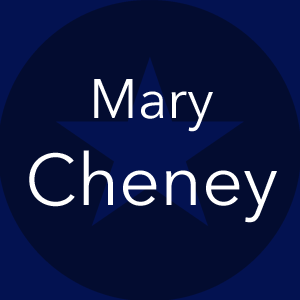 Mary Cheney currently serves as the managing partner at New Troy Strategies, a political and grassroots consulting firm located in Alexandria, VA. As managing partner, Ms. Cheney oversees all aspects of the firm's business operations. In addition, she handles a variety of client programs, focusing primarily on energy, telecom and non-profit organizations. A veteran corporate and political advisor, Ms. Cheney has over 25 years of political and corporate experience.
Prior to joining New Troy Strategies, Mary was the managing partner at BKM Strategies, a consulting firm that specialized in building and managing highly impactful and effective political, issue, and grassroots campaigns.
Ms. Cheney has also been a highly-valued member of Navigators Global, where she led the firm's strategic communications team. During her time at Navigators, she oversaw successful communications campaigns for clients regarding telecommunications, energy, and financial services issues. She also played a key role in the firm's international expansion.
Aside from being a consultant, Ms. Cheney has also served at senior levels in corporate America. She was the chief of staff to AOL's vice chairman where she directed various projects, including developing communications plans for members of senior management, developing marketing plans for various AOL portals, and working with AOL's privacy taskforce to investigate the release of client search records. Her work with the taskforce led her to become the Vice President of Standards and Practices, where she directed the team responsible for managing issues, such as Internet privacy, child safety and the use of behavioral targeting in advertising.
Before joining AOL, Ms. Cheney served as a senior campaign aide in both the 2000 and 2004 presidential elections. She held the position of Special Assistant to the Vice Presidential Nominee during the Bush-Cheney 2000 presidential race and served as Director of Vice Presidential Operations for the Bush-Cheney 2004 presidential reelection campaign. In this capacity, she directed all aspects of vice presidential operations, including messaging, events, budget, staffing and scheduling.
From 1994–2000, Ms. Cheney was at Coors Brewing Company, where she held several managerial, communications and public relations positions. While at Coors, she developed and implemented a plan to effectively end a 20-year boycott of Coors products by the gay and lesbian community. She was also responsible for the development of creative, long-term strategies for managing environmental and alcohol-related policy and public relations issues.
Ms. Cheney received her Bachelor of Arts in History from Colorado College and a Master in Business Administration from the Daniels Business School at the University of Denver. She currently serves on the Advisory Board for Georgetown University's Institute of Politics and Public Policy.